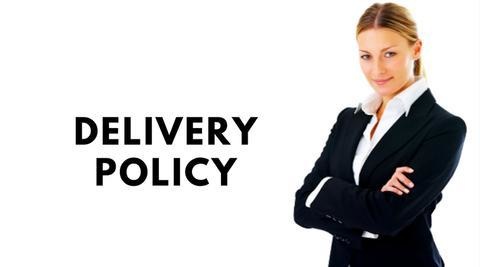 THE DAY BEFORE DELIVERY, OUR STAFF WILL CALL THE NUMBER ON FILE TO REMIND CUSTOMER OF DELIVERY TIME AND DOUBLE CHECK THE ADDRESS GIVEN, WE USUALLY GIVE A 4 HOUR WINDOW.
DELIVERY DRIVERS WILL CALL THE DAY OF DELIVERY AS THEY ARE HEADING TOWARDS YOUR LOCATION.
DELIVERY DROP OFF MEANS THAT THE DELIVERY TEAM WILL DELIVER THE FURNITURE TO YOUR RESIDENCE AND DROP IT OFF IN THE BOX ON THE GROUND (1ST) FLOOR. DELIVERY ONLY OR DROP OFF DOES NOT MEAN DELIVERY TEAM WILL BE ASSEMBLING THE ITEMS.
DELIVERY AND ASSEMBLY MEANS THE DELIVERY TEAM WILL DELIVER ALL ITEMS TO YOUR RESIDENCE AND SET MERCHANDISE UP IN THE DESIGNATED AREAS.
IF THE CUSTOMER OR ANY OTHER PERSONS OVER THE AGE OF 18 IS NOT AT THE RESIDENCE WHEN THE DELIVERY TEAM ARRIVES, THE DELIVERY TEAM WILL ONLY WAIT 15 MINUTES BEFORE MOVING ON TO THE NEXT DELIVERY.
ANY MISSED DELIVERIES WILL BE RESCHEDULED TO ANOTHER DAY AS WELL AS CHARGED A NEW DELIVERY FEE.
IF, FOR ANY REASON, THE MERCHANDISE BEING DELIVERED WILL NOT GO THROUGH THE ENTRY WAY, WHOLESALE FURNITURE & MATTRESS INC. DELIVERY TEAM WILL NOT BE RESPONSIBLE FOR ANY DAMAGE TO THE FURNITURE, NOR THE HOUSING, IF THE CUSTOMER WANTS OUR DELIVERY TEAM TO CARRY ON WITH BRINGING THE MERCHANDISE INTO THE PLACE OF RESIDENCE.
****UPON DELIVERY, ANY PREVIOUS FURNITURE MUST BE REMOVED FROM THE AREA ITEMS ARE BEING DELIVERED TO****
BY OUR INSURANCE POLICY, OUR DELIVERY TEAM IS NOT AUTHORIZED TO MOVE ANY PREVIOUS FURNITURE IN THE DESIGNATED ROOMS, NOR CAN THEY INSTALL ITEMS ON THE WALLS, CEILING, OR INSTALL ELECTRICAL EQUIPMENT INTO ENTERTAINMENT UNITS.
***IT IS IMPORTANT FOR A PERSON OVER THE AGE OF 18 BE AT THE RESIDENCE OF DELIVERY TO SIGN FOR THE MERCHANDISE***
Driver Does Not Collect On Delivery | Order Must Be paid In full before scheduling.
Thank you for your business.
Wholesale Furniture & Mattress | 1864 County Route 49 Winthrop, New York
The Management